Scroll down to see what other people says about Gaarden & Gaden
For all press inquiries please contact Thomas Spelling at thomas@gaaga.dk
All photos © Gaarden & Gaden unless other stated.
Die Zeit: In drei Drinks durch Kopenhagen
9. august 2018
"(…) Klaus ist ein stummer Diener. Er spricht auch dann nur wenig, wenn man ihn etwas fragt, aber wenn er etwas sagt, weiß er, wovon er spricht. Von Naturwein zum Beispiel, der Spezialität dieses Ladens. Ich verspreche, beim nächsten Mal ein Glas zu probieren, denn vor mir steht nun ein "Ti' Punch". Zucker, Eis, Limette, fünfzigprozentiger Rum. Ich huste, Klaus lacht, und seine Zahnlücke blitzt hervor. Mein Blick bleibt ungeniert lange daran hängen, bis Amelie mich anstupst und auf einen Getränkespender zeigt, der auf der Bar steht. "Noch ein To-Gro-Ni?", fragt sie. Ich verstehe nicht sofort. Im Glasbottich leuchtet eine blutrote Flüssigkeit. "Negroni", erklärt Amelie, "den gibt's hier auch zum Mitnehmen. (…)"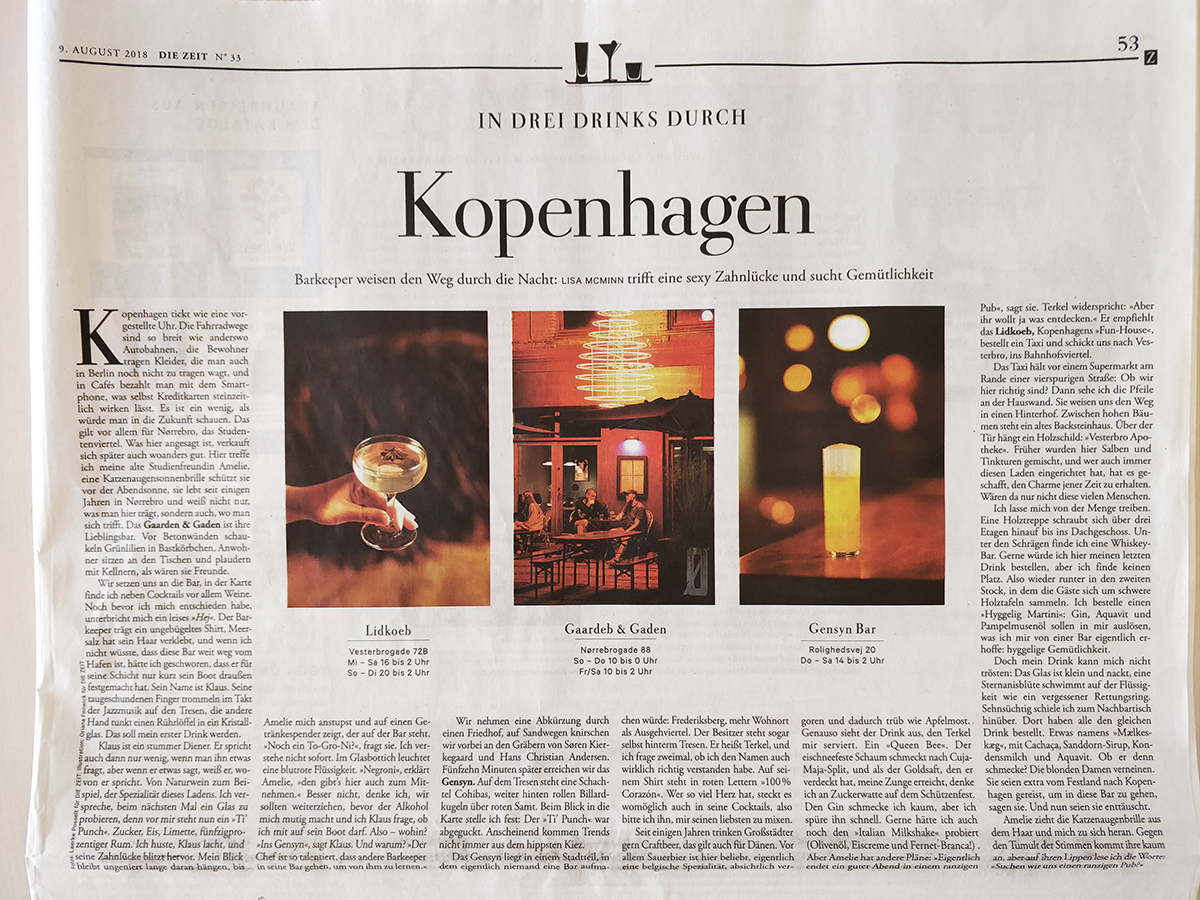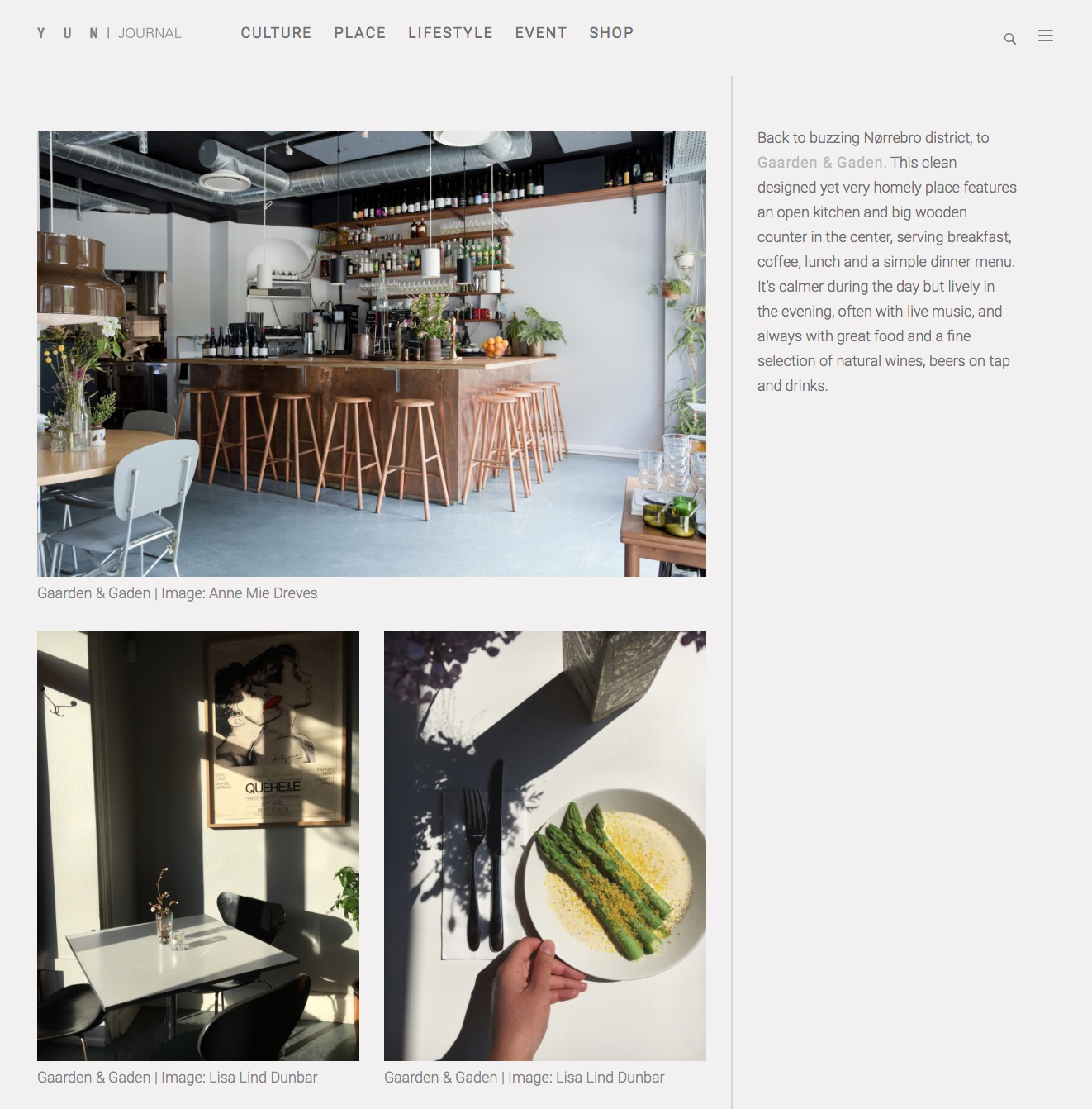 YUN Journal: A balanced day in Copenhagen
12. juli 2018
"Back to buzzing Nørrebro district, to Gaarden & Gaden. This clean designed yet very homely place features an open kitchen and big wooden counter in the center, serving breakfast, coffee, lunch and a simple dinner menu. It's calmer during the day but lively in the evening, often with live music, and always with great food and a fine selection of natural wines, beers on tap and drinks."
Phaidon: Where Chefs Eat (3rd Edition)
Spring 2018
Recommended in this great publication by Phaidon. Food menu got a huge update since this recommendation was recorded but you are still welcome for just a drink and a dozen oysters, Christian!
"Gaarden & Gaden is more of a bar but they also serve simple food and the occasional oyster. It's on my way home from work and the atmosphere is great for just dropping by" -Christian F. Puglisi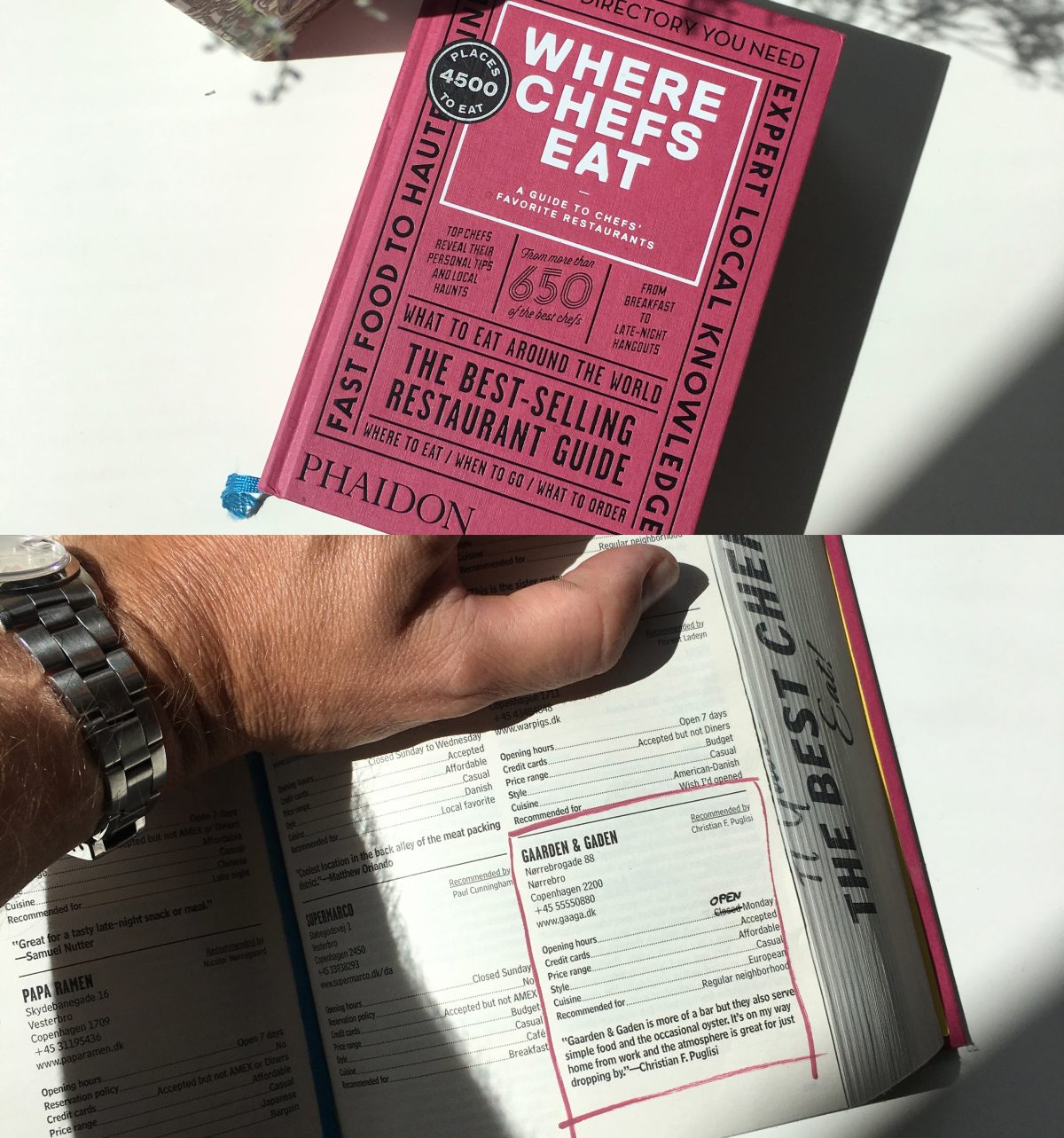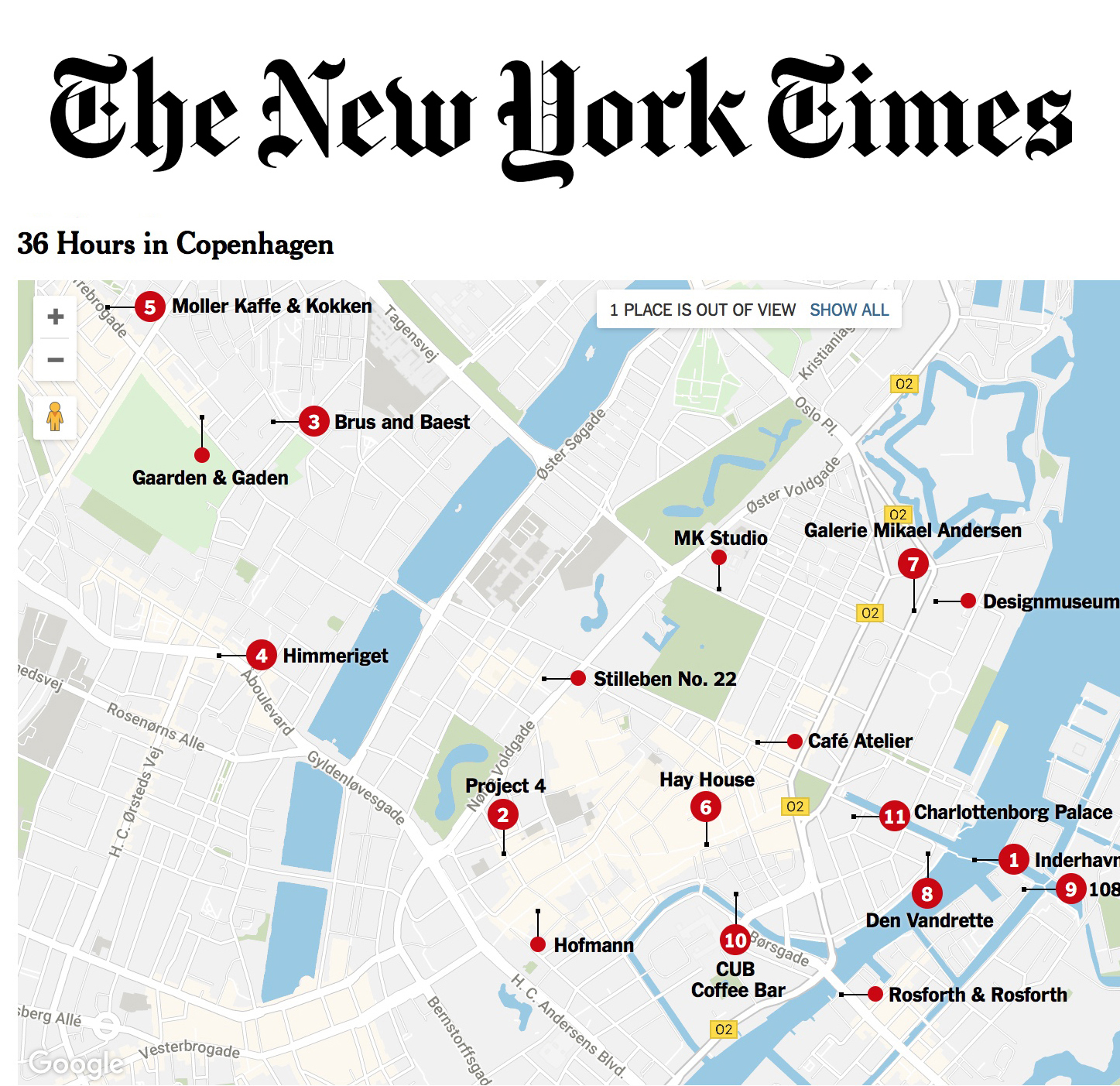 New York Times: 36 Hours in Copenhagen
24. april 2018
"In the design-savvy, food-obsessed Danish capital, the only problem for travelers is keeping up with all that is new.
(…)
4) 11 p.m. TIPPLE TIPS
In a city filled with excellent watering holes, one of the most impressive newcomers is Himmeriget, an unassuming bar in a former butcher shop. At this all-are-welcome neighborhood hangout, the cocktail list is handwritten on the white tile wall and ten taps pour well-chosen craft beers (one owner is Jeppe Jarnit-Bjergso of Evil Twin Brewing). If wine is what you're after, look for the neon-pink teardrop marking the entrance to Gaarden & Gaden, a nearby bar specializing in natural wines with some 300 bottles in the cellar."
Politiken: Smagen af stamsted
23. juni 2017
Anmeldelse: Gaarden & Gaden midt i Nørrebros shawarmabælte er ærlig, modig, tiltrængt og i øjenhøjde.
Med østers til morgenmad, veltilberedte retter og håndplukkede naturvine har Gaarden & Gaden på Nørrebrogade stamsteds-potientiale, mener Ibyens nye madanmelder.
"I mellemkødet mellem de kreative børnefamilier på Indre Nørrebro og de studerende hipster-bohemer på Ydre Nørrebro ligger spisestedet Gaarden & Gaden. Her er kok og sommelier Thomas Spelling rykket ind midt i Nørrebrogades shawarmabælte med et vinkort bestående udelukkende af naturvin og retter af råvarer, der kommer fra håndplukkede primært økologiske producenter. (…) fordi jeg straks har lyst til at komme igen. Fordi Gaarden & Gaden kompetent stiller mange og manges behov. Og mest af alt fordi den er ærlig, modig, venlig, tiltrængt, i øjenhøjde og har både blik og sans for råvarer og det præcist håndplukkede."
Link til artikel / link to article (Danish)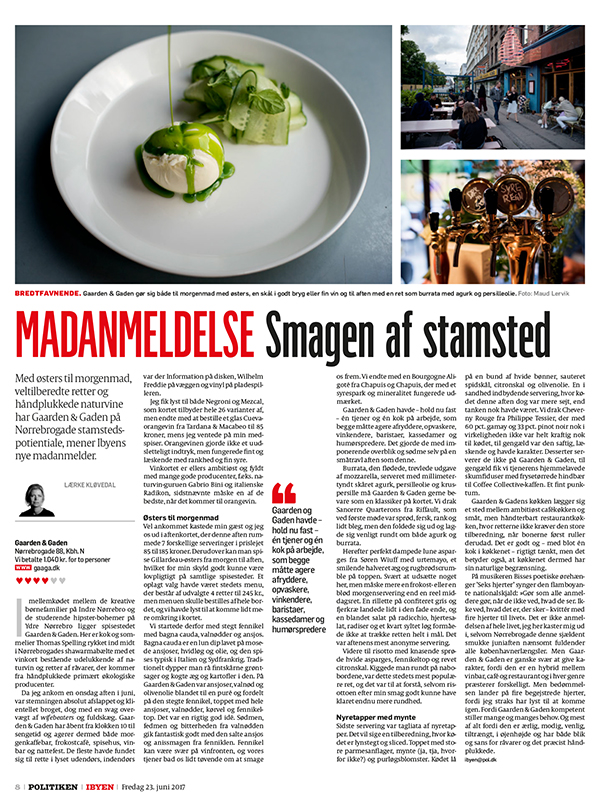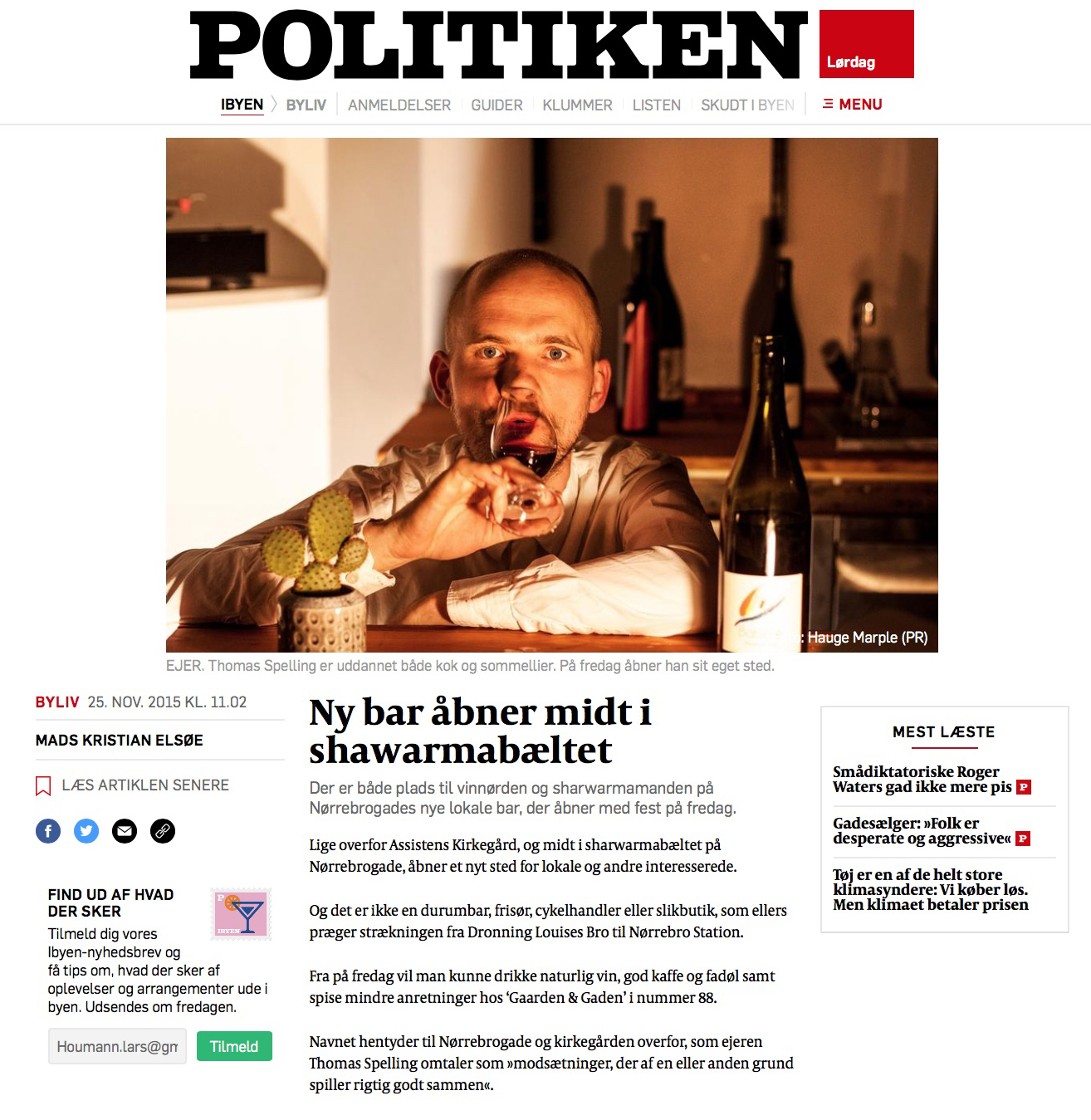 Politiken: Ny bar åbner midt i shawarmabæltet
25. november 2015
Article from back then when opening a bar at Nørrebrogade was considered news;)
"Der er både plads til vinnørden og sharwarmamanden på Nørrebrogades nye lokale bar, der åbner med fest på fredag.
Lige overfor Assistens Kirkegård, og midt i sharwarmabæltet på Nørrebrogade, åbner et nyt sted for lokale og andre interesserede.
Og det er ikke en durumbar, frisør, cykelhandler eller slikbutik, som ellers præger strækningen fra Dronning Louises Bro til Nørrebro Station.
Fra på fredag vil man kunne drikke naturlig vin, god kaffe og fadøl samt spise mindre anretninger hos 'Gaarden & Gaden' i nummer 88.
Navnet hentyder til Nørrebrogade og kirkegården overfor, som ejeren Thomas Spelling omtaler som »modsætninger, der af en eller anden grund spiller rigtig godt sammen«."